We Build Sunrooms to Beautify & Expand Your Outdoors
Need a space in your home where you can spend idyllic summer days soaking in the warmth and natural light? A sunroom offers a great space for relaxing, entertaining guests, or enjoying the sun. At Castle Construction, we specialize in building custom sunroom additions for homes in Marietta and the surrounding areas. Our expertly designed and constructed sunrooms protect you from harmful UV rays and allow natural light to filter in.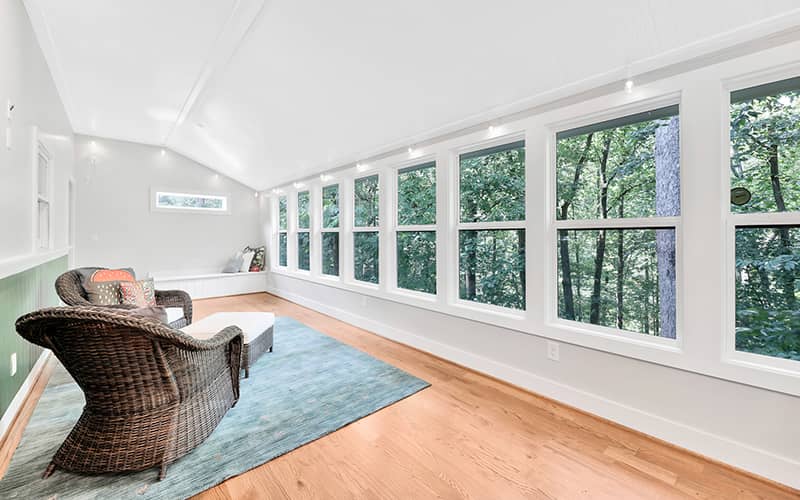 Why Get Your Sunroom Built by Us?
Perfectly Matched to Your Needs
Our consultation involves a clear understanding of how your family seeks to use the sunroom. We incorporate your preferences into the design and the actual build so that you and your family can enjoy it for many summers.
Aesthetically Consistent
We create a sunroom that meshes perfectly with your existing home and gives you the space you need to spread out. Our balanced approach to the building process means selecting the suitable building materials, color palette and other elements for the perfect sunroom that blends in with the rest of your home.
Complete Installation of all Creature Comforts
Do you want your sunroom to be connected to the home HVAC system? Do you need panoramic doors in your sunroom for enhanced appeal and access to your yard? We are your one-stop shop for incorporating all features into your new sunroom.
Superior Quality
We use the best products available to ensure quality and longevity. When you hire us, we build beautiful and functional sunrooms that will continue to excite your family and guests for many years.
Get Your Perfect Sunroom Today
Are you exploring inspiring ideas for a new sunroom? We are always happy to provide suggestions to help you out. Get in touch with our team to learn more about a custom sunroom today. Call (770) 504-6010 or fill in your details in our convenient online contact form.